Connect with your audience : mass media advertising
Capture your market's attention with OTT and connected TV services from Business Inc Online. Our ad purchasing and ROI measuring capabilities make it easy to target your audience and fine tune campaigns quickly.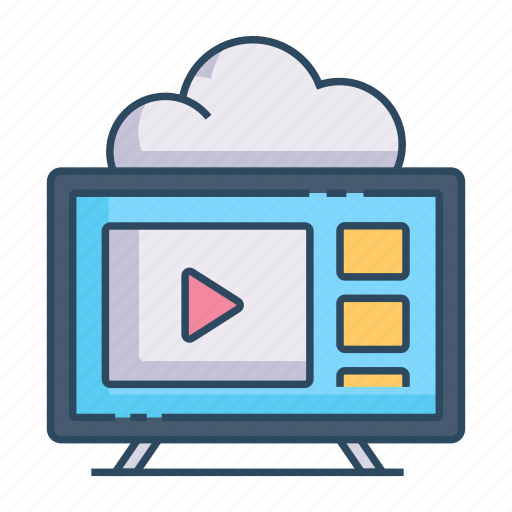 Get ahead of competitors with smart OTT services.
Say goodbye to complicated and expensive traditional television advertising and hello to the modern data-driven over-the-top (OTT) and connected TV (CTV) advertising solutions. Your business can now advertise on some of the biggest streaming services available, from NBC Today to A&E, with advanced targeting capabilities so you can make sure your ads are reaching the right users. Take advantage of our cutting edge technologies that can help you optimize your campaigns for maximum success and ROI.
You'll also have access to critical analytics data, like:
Impressions
Watch percentages
Clicks
And more
Keep reading to learn more about promoting your brand with OTT and connected TV services, or contact us online (you can also give us a ring at 888-903-2467 to speak with a strategist!
Reach Millions of Potential Customers Instantly with Our Mass Media Advertising Services
With OTT and CTV advertising, plus a partner like WebFX, your brand can get several benefits, including:
Reach your target audience on the streaming services they use
We specialize in connecting companies to their target market with effective and targeted advertising on OTT (Over-the-Top) and CTV (Connected TV) platforms. Our cutting edge campaigns reach more than 70% of U.S. households, so companies can be sure they're reaching their desired demo. We make it our mission to offer the best in OTT/CTV advertising services to keep our clients connected with their target audience in an ever-evolving media landscape.
Improve your ad campaigns' impact with advanced targeting options
We understand the importance of driving positive outcomes that reach your company's goals; our marketing solutions are designed to be impactful while also cost-effective. With CTV and OTT Advertising, you can rest assured knowing you are getting the best value for your ad spend.
For example, with WebFX, your business can use the following targeting options:
Addressable: Use GPS data and internal address lists to create a hyper-targeted audience.
Behavioral: Use keywords, online behavior, and context to reach new audience members.
Demographic: Use location, income, and more to target more than 125 million U.S. households.
OTT and CTV Advertising is the perfect way to reach your target market quickly, efficiently and effectively. With OTT and CTV Advertising you can create highly targeted campaigns that reach your desired customers with the right message at just the right time. This will enable you to increase website visits as well as lead to more sales.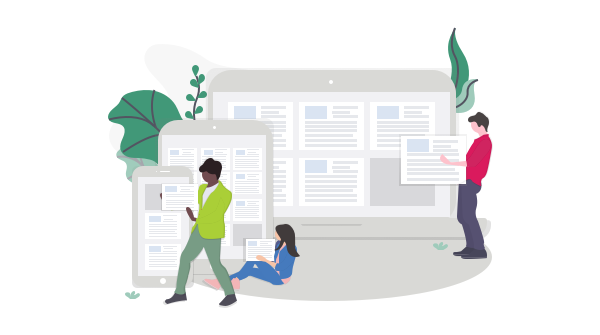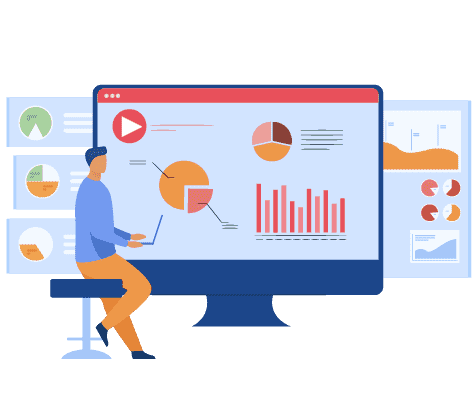 Measure your return on investment with zero work
You don't have to struggle to measure your return on investment (ROI) with CTV and OTT advertising.
Instead, you can access all the metrics you need to evaluate a campaign's performance, including:
Impressions
Clicks
Percentage watched
Muted and unmuted
Paused and unpaused
With our OTT and CTV service, we offer solutions to help your business reach its full potential. We provide a transparent and secure platform that helps increase brand visibility among your target audience. Our services offer detailed analytics and insights on user-specific data so you can see where your ad has been viewed, how many users watched the full-screen version of the ad, as well as conversions between online and offline platforms. 
Optimize your Content Workflows with our Content Writing Services
CTV Advertising specializes in providing interactive and engaging video advertising for smart TV sets. Our experienced team works with businesses of all sizes to craft creative and impactful ads tailored to their specific needs. We provide access to numerous Connected TV networks and make use of advanced targeting capabilities, such as precise location-based targeting, to ensure your advertisement reaches the most interested and relevant audiences.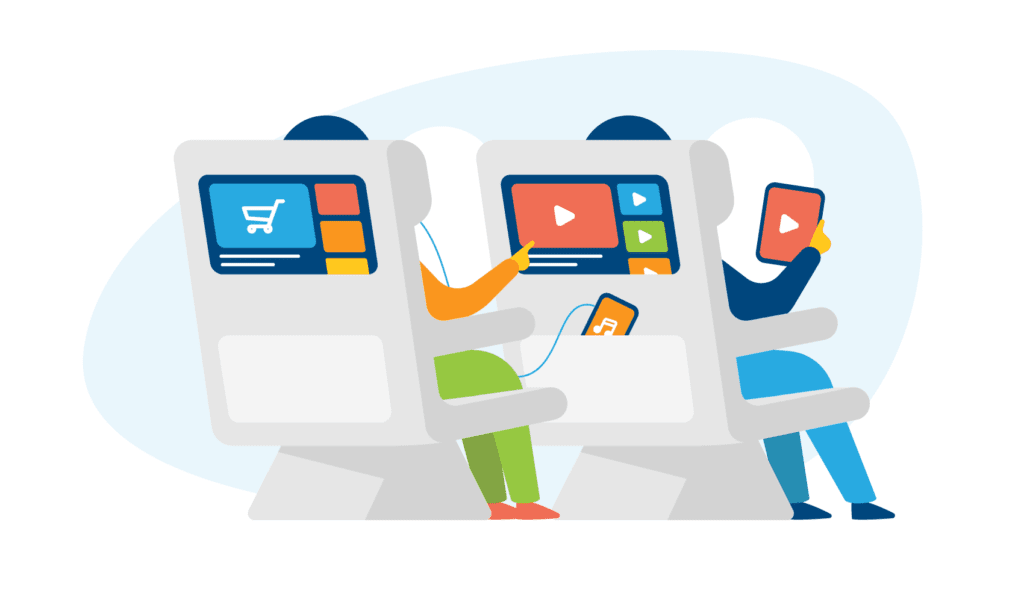 Our Experts are Ready to Help!
Connect with one of our Local Experts today and discuss your requirements. Free advice.

Want to connect with a marketing expert? Dial in!

In today's digital age, businesses of all sizes are constantly looking for ways to promote their products and services to a wider audience. With the growing popularity of streaming services like Hulu, Netflix, and Amazon Prime, Over-The-Top (OTT) and Connected TV (CTV) advertising has become a powerful tool for businesses to reach their target audience. At our company, we provide an OTT/CTV advertising service that enables businesses to deliver targeted ads to viewers of these streaming platforms.
Our OTT/CTV advertising service offers a range of benefits for businesses. Firstly, it provides a cost-effective alternative to traditional TV advertising, allowing businesses to reach a large audience without breaking the bank.
Sea eligendi comprehensam in, lucilius ocurreret vim ne, ne quo justo explicari. Cum ad summo definitionem, liber diceret petentium id his, sit diam case molestiae ea.
Marie Young
Sea eligendi comprehensam in, lucilius ocurreret vim ne, ne quo justo explicari. Cum ad summo definitionem, liber diceret petentium id his, sit diam case molestiae ea.
Jack Young
Sea eligendi comprehensam in, lucilius ocurreret vim ne, ne quo justo explicari. Cum ad summo definitionem, liber diceret petentium id his, sit diam case molestiae ea.
Hanna Young
As the advertising industry continues to evolve, new terms and acronyms are introduced to describe the latest trends and technologies. One such term is "OTT advertising," which has gained significant attention in recent years. But what exactly is OTT advertising, and why is it important for marketers to understand this concept? In this blog post, we will explore the world of OTT advertising and provide insights into its significance in today's digital landscape.
OTT, or "over-the-top," refers to the delivery of media content over the internet, bypassing traditional broadcast and cable providers. This includes streaming services such as Netflix and Hulu, as well as video-sharing platforms like YouTube. OTT advertising is the practice of delivering ads to viewers watching content through these platforms. This method of advertising has become increasingly popular due to the rise of cord-cutting, as more and more consumers turn to streaming services for their entertainment needs.
CTV advertising is the latest buzzword in the world of advertising. In today's digital age, where consumers have multiple devices and platforms to consume content, advertisers are finding it increasingly challenging to reach their target audience. CTV advertising is a powerful solution to this problem, as it enables advertisers to reach their target audience on their TV screens, which is still the most widely used platform for consuming content. Connected TV (CTV) refers to any TV that is connected to the internet, and CTV advertising involves serving ads on these TVs through streaming platforms like Hulu, Amazon Prime Video, and YouTube TV.
The rise of CTV advertising has been driven by the increasing popularity of streaming services, which have disrupted the traditional TV advertising model. As more and more consumers cut the cord and switch to streaming services, advertisers are following suit by shifting their budgets towards CTV advertising.
Ready to Grow? Get your FREE Quote Today!
Is There Any Difference Between OTT and CTV Advertising?
As the world of advertising continues to evolve, new buzzwords are constantly emerging. Two of the latest terms that are causing confusion and sparking debate among marketers are OTT and CTV. While some use these terms interchangeably, others argue that they have different meanings and applications. In today's blog post, we will explore the differences between OTT and CTV advertising and help you understand how they can benefit your business. We will delve into what each term means, the technology behind it, and how it can help you reach your target audience more effectively. With the growth of streaming services like Netflix, Hulu, and Amazon Prime, the world of TV advertising has shifted dramatically, and it's important to understand these new terms to stay ahead of the game. Our experts will walk you through the intricacies of these technologies and provide you with a clear understanding of how they can benefit your business.
Discover how we can help your business.
The support was great and the team was always there when we needed them. We'll definitely be back for future projects as we continue to expand. Sincerely, from the heart, thank you for putting yourself in the work. We are so pleased with the results and we really appreciate the love you put in. I highly recommend you to anyone.
Just a short note to express how satisfied I am with my digital marketing campaign. I am extremely pleased with it. You've all exceeded my expectations and I'm excited to proceed to start running google ads now. We appreciate our partnership and have been really satisfied with the results of the work your team did. What a night and day difference from our last web agency. I'll be using you on all of my future projects.
Awesome work, our site's chatbot now looks almost human and very intuitive. Changed the order a couple of times, but it was fulfilled and adapted to what I needed each time. Project delivery including the reviews were all in a timely manner- this is such a great experience. Will always recommend for AI chatbot design.
Sources of OTT Advertising Services
In the world of modern advertising, Over-The-Top (OTT) services are quickly becoming the most popular way for businesses to reach their target audience. These services offer a unique platform for companies to deliver their message directly to consumers through internet-based streaming services, bypassing traditional television and cable providers. With the rise of OTT, advertisers have access to an ever-expanding array of services, each with its own strengths and weaknesses. In this blog post, we will explore some of the top sources of OTT advertising services and provide insights into how you can utilize them to boost your marketing efforts.
One such source of OTT services is through streaming services, such as Netflix or Amazon Prime Video, which have become household names. With millions of subscribers and a vast library of content, these services offer a huge potential audience for advertisers to target. Another avenue for OTT advertising is through social media platforms such as Facebook and Instagram, which have introduced their own streaming services.
There are mainly 3 ways to access OTT inventory:
Programmatic
Platform Direct
Publisher Direct
Programmatic advertising refers to the use of automated systems to purchase and optimize digital advertising in real-time. This technology uses algorithms and data to improve targeting, increase efficiency, and reduce costs. Programmatic offers several benefits to advertisers, including the ability to reach targeted audiences more effectively, streamline the buying process, and measure campaign effectiveness in real-time. With programmatic, advertisers can access multiple ad formats, including display, video, and native ads, and target specific devices, locations, and demographics. By leveraging data and automation, programmatic is transforming the advertising industry, allowing advertisers to achieve better results and increase ROI.
Platform Direct is a reliable and innovative marketing agency that specializes in performance-based marketing solutions. With a focus on data-driven insights and a commitment to delivering measurable results, Platform Direct helps businesses grow their online presence and expand their customer base. Their comprehensive suite of services includes affiliate marketing, search engine optimization, pay-per-click advertising, email marketing, and more. Whether you're looking to drive traffic, increase conversions, or boost revenue, Platform Direct has the expertise and tools to help you achieve your goals. With a team of experienced professionals and a commitment to delivering exceptional customer service, Platform Direct is a trusted partner for businesses of all sizes looking to succeed in the digital marketplace.
Publisher Direct is a renowned programmatic advertising platform that enables publishers to monetize their ad inventory efficiently. It provides publishers with complete control over their ad inventory, allowing them to set up their pricing and optimize their revenue streams. The platform offers a comprehensive suite of ad formats, including video, display, and native, to cater to all types of audiences. With Publisher Direct, publishers can also access a vast pool of premium advertisers and demand partners, ensuring that their inventory is filled with high-quality ads. The platform is easy to use, and its reporting tools provide publishers with real-time insights into their ad performance. Overall, Publisher Direct is an excellent choice for publishers looking to maximize their ad revenue.
Ready to speak with our experts?
Access the
$3,000,000,000
REVENUE FOR OUR CLIENTS
Use our expert-led tactics for
$15,000,000+
CLIENT ACQUISITION
Unlock do-it-for-me
200-400%
INCREASE FROM OUR DIGITAL CHAT BOT SERVICE
Accelerate ROI Digital PR
2,200,000+
SOCIAL MEDIA & JOURNALIST ACCOUNTS
Benefits of Using Our OTT/CTV Advertising
As the world around us continues to evolve and technology advances at a rapid pace, it's no wonder that more and more businesses are turning to OTT/CTV advertising to reach their target audiences. But what exactly is OTT/CTV advertising, and why is it such a powerful tool for businesses of all sizes? Put simply, OTT/CTV advertising refers to the delivery of video content through internet-connected devices, such as smart TVs, gaming consoles, and streaming boxes. By using this method of advertising, businesses can reach their target audiences in a more targeted and efficient way, ensuring their message is seen by the right people at the right time.
Whether you're looking to promote a new product, increase brand awareness or drive traffic to your website, our team of experts can help you develop a customized advertising strategy that delivers results.
We Offer Robust Option of Targeting
As a leading marketing and advertising company, we understand that the key to success in any campaign is effective targeting. That's why we offer a robust range of options to help our clients reach their desired audience with precision and accuracy. Our advanced targeting tools allow us to identify and engage with specific demographics, interests, behaviors, and locations. We also offer custom targeting options that can be tailored to meet the unique needs of each client. With our expertise and cutting-edge technology, we can help our clients maximize their marketing efforts and achieve their goals. Whether it's driving sales, increasing brand awareness, or boosting customer engagement, we have the tools and expertise to deliver results.
We Help You Commands More Engagement
We Help You Commands More Engagement is a comprehensive service that aims to improve engagement levels across digital platforms. Our focus is on providing customized solutions for businesses of all sizes to help them enhance their online presence and attract more customers. Through our expertise in digital marketing, we develop strategies that are tailored to the unique needs of each client. Our team of experienced professionals provides guidance and support to help businesses create engaging content, optimize their website, and leverage social media to reach their target audience. With We Help You Commands More Engagement, businesses can expect to see increased engagement, improved brand visibility, and a boost in sales and revenue.
Get Your Business Before Diverse Audience
In today's diverse marketplace, it is crucial for businesses to reach out to a diverse audience. This can be achieved through various means such as targeted marketing campaigns, events, and partnerships with diverse organizations. The key is to understand the cultural nuances and preferences of the different groups that make up your audience. By doing so, businesses can tailor their message and approach to resonate with these groups, and build a loyal customer base. Additionally, embracing diversity within the workplace can also lead to a more innovative and inclusive culture, ultimately benefiting the business. It's important for businesses to recognize the importance of diversity and actively work towards reaching out to and engaging with a diverse audience.
Accuracy is a critical element in any professional setting, and it is essential to strive for it in all aspects of our work. When it comes to data, statistics or any other form of information, accuracy is paramount. A lack of accuracy can lead to incorrect conclusions and can have serious consequences in decision-making processes. It is important to take the time to double-check and verify all information before presenting it to others. It is also essential to communicate effectively with team members to ensure that everyone is on the same page and interpreting information accurately. In any profession, accuracy should be treated as a top priority to ensure the best possible outcomes.
Ready to speak with our experts?
Some Limitations of OTT/CTV Advertising
Over-the-top (OTT) and connected TV (CTV) advertising have been gaining popularity among marketers in recent years. As more and more people turn to streaming services and connected TVs for entertainment, advertisers have seized the opportunity to reach these audiences with targeted ads. However, like any other form of advertising, OTT/CTV advertising has its limitations. In this blog post, we'll explore some of the key challenges that marketers face when it comes to OTT/CTV advertising.
One of the primary limitations of OTT/CTV advertising is the lack of standardization in the industry. With so many different devices, platforms, and content providers in the market, it can be challenging for advertisers to ensure that their ads are being delivered to the right audience at the right time. Another challenge is the difficulty of measuring the effectiveness of OTT/CTV ads. Unlike traditional TV advertising, which has well-established metrics such as GRPs and TRPs, OTT/CTV advertising.
Limited Ad Format is a strategic approach of displaying advertisements that focuses on providing a non-intrusive and relevant user experience. This format restricts the number of ads that a user sees while browsing online, ensuring that the ads displayed are highly targeted and personalized. The primary aim of Limited Ad Format is to prevent ad overload and improve the quality of user engagement. Limited Ad Format can be implemented in various forms, including native ads, sponsored content, and in-stream video ads. By adopting this approach, advertisers can increase brand loyalty, customer retention, and conversion rates, ultimately leading to a more successful advertising campaign.
Limitations of Various Platforms
When it comes to choosing a platform for your business or personal use, it is essential to consider the limitations of various platforms. Different platforms have their own strengths and weaknesses, and it is important to be aware of them before making a decision. For example, social media platforms like Facebook and Twitter have limitations in terms of character count, which can affect the ability to convey a message effectively. Similarly, website builders like Wix and Squarespace have limitations in terms of customization and flexibility. Therefore, it is crucial to identify your specific needs and requirements before selecting a platform and to thoroughly research its limitations to ensure it is the right fit for you.
Content restriction refers to the practice of controlling or limiting access to certain types of content, usually online or in media. It is often implemented to protect children from harmful or inappropriate content, or to comply with legal or ethical regulations. Content restriction can take various forms, such as filtering or blocking specific websites, restricting access to certain types of media, or implementing age verification systems. While content restriction can be effective in keeping users safe and compliant, it can also raise concerns about censorship and freedom of information. It is important for organizations to balance the need for content restriction with the need for access to information and free expression.
SUBSCRIBE
& get a chance to
Join our customer database and you will be entered in our quarterly bonus giveaways!
Ways to Measure The Effectiveness of OTT/CTV Advertising
As the advertising industry continues to evolve, it's no secret that over-the-top (OTT) and connected TV (CTV) advertising have become increasingly popular. The seamless streaming experience provided by these two channels has led to more and more consumers cutting the cord and opting for OTT/CTV platforms as their primary source of entertainment. However, as with any advertising channel, the question of effectiveness arises. How do we measure the impact of OTT/CTV advertising? This is a crucial question for advertisers and marketers alike, as they need to ensure that their campaigns are yielding the desired results.
A precise measurement of the effectiveness of OTT/CTV advertising can be challenging, given the lack of standardized metrics across the industry. Therefore, it's essential to use a combination of performance indicators to assess the impact of OTT/CTV campaigns:
Reach is a term commonly used in marketing and advertising that refers to the number of people who see or are exposed to a particular message, advertisement or campaign. In essence, reach is a measure of the potential audience that a marketing effort can reach. The higher the reach, the greater the potential impact and success of the campaign. Reach can be measured through various metrics, such as impressions, clicks, views, and shares. It is essential for businesses to understand the importance of reach and to develop strategies to increase it. By increasing reach, businesses can improve brand awareness, increase engagement, and ultimately boost sales and revenue.
Completion rate is a key performance metric that measures the percentage of tasks, projects, or assignments that are successfully finished within a particular time frame. It is an essential indicator for businesses, organizations, and individuals to evaluate their productivity and efficiency. A high completion rate implies that the objectives are being met and the resources are being utilized effectively. It also reflects the team's ability to meet deadlines and deliver quality work. In contrast, low completion rates may indicate poor planning, lack of focus, or inadequate resources. Thus, it is crucial to track completion rates regularly and identify the factors contributing to any deviations to address them effectively.
Audible rate refers to the speed at which audio content is played back. It is an essential aspect of audio content consumption, especially for audiobooks and podcasts. The audible rate is measured in words per minute, and it determines how quickly the listener can consume the content. While some listeners prefer a slow pace, others prefer a faster one. It is essential to find a balance between the audible rate and the listener's comprehension ability. Audible rate can also be adjusted to suit the context of the content, such as slowing down for complex topics or speeding up for lighter ones. In summary, the audible rate is a crucial consideration for audio content producers and listeners alike.
Viewability Score is a critical metric used in digital advertising to measure the effectiveness of online ad campaigns. It refers to the percentage of ad impressions that are viewable to users on a website. A higher viewability score indicates that more users are seeing the ad, which can lead to higher engagement rates and better return on investment. To calculate viewability score, advertisers use specialized software that measures the amount of time an ad is visible on a user's screen and determines how much of the ad was within the user's viewable space. By focusing on viewability, advertisers can ensure that their ads are being seen by their target audience, leading to more successful campaigns.
Cost per Mile/Thousand View (CPM)
Cost per Mile/Thousand View (CPM) is a widely used metric in digital advertising that measures the cost of reaching a thousand impressions or views of an ad. It is a valuable tool for advertisers and publishers to evaluate the efficiency of their campaigns by comparing the cost to the number of impressions or views generated. CPM is calculated by dividing the total cost of the ad campaign by the number of impressions or views, and then multiplying the result by one thousand. This allows advertisers to determine the average cost of reaching each thousand viewers, which is a critical factor in determining the profitability of the campaign. By tracking CPM, advertisers can optimize their ad placements and targeting to improve the return on investment.
Attribution tracking is a powerful tool in the world of digital marketing that allows businesses to analyze and measure the effectiveness of their marketing efforts. By tracking a customer's journey from the initial point of contact to the point of conversion, businesses can identify which marketing channels are driving the most engagement and revenue. This level of insight enables businesses to optimize their marketing spend and maximize their return on investment. Attribution tracking can also help businesses understand their customer's behavior patterns and preferences, which can inform future marketing strategies. Overall, attribution tracking is an essential tool for businesses looking to make data-driven decisions and stay ahead of the competition.
Cost per Completed View is an important metric for measuring the success of video advertising campaigns. It refers to the cost incurred by advertisers for each instance in which a viewer watches a video ad in its entirety. It is crucial for advertisers to monitor this metric as it provides valuable insights into the effectiveness of their ad campaigns. A lower cost per completed view indicates that the ad is resonating well with the audience and is engaging enough to hold their attention until the end. This, in turn, leads to better brand awareness, increased conversions, and ultimately, a higher return on investment (ROI). Therefore, it is essential for advertisers to optimize their campaigns to achieve the best possible cost per completed view.
Our OTT/CTV Service in Business Growth
Over-the-top (OTT) and Connected TV (CTV) services are revolutionizing the way people consume content. As the world continues to shift towards digitalization, businesses are embracing these services to reach their target audience effectively. With more than 60% of US adults using OTT services for entertainment, it has become a lucrative market for businesses to leverage. It's no surprise that the OTT/CTV industry is projected to grow to $156.9 billion by 2024. As a result, businesses are beginning to take notice, leading to an increase in the adoption of these services in their marketing strategies.
In this blog post, we'll explore the impact of OTT/CTV services on business growth. We'll discuss how these services have transformed the advertising landscape, making it easier for businesses to reach their target audience. Furthermore, we'll highlight the advantages of using OTT/CTV services compared to traditional advertising methods
Trust Us With Your OTT/CTV Advertising Today
In conclusion, as the popularity of OTT/CTV advertising continues to grow, it is essential to have a trustworthy and experienced partner to navigate this complex landscape. Our team has the expertise and resources to help you create and execute a successful advertising campaign that reaches your target audience and delivers results. Don't leave the success of your advertising campaign to chance. Trust us with your OTT/CTV advertising today and take your brand to new heights.
OTT and CTV Advertising Solutions is a full-service digital marketing agency that specializes in helping businesses and personal brands maximize their reach through the latest OTT (over-the-top) and CTV (connected television) advertising techniques. Our team of experts have years of experience in developing effective, data-driven strategies for building brand exposure, increasing conversions, and driving ROI on digital campaigns. We are committed to providing our clients with personalized, customized services tailored to their unique needs and budget. With our innovative strategies, expert advice, and detailed reporting capabilities, we can help you achieve the best results from your OTT and CTV campaigns.