Mobile App Development that attracts clients & boost sales
We strive to make mobile and online app design and development more accessible, affordable, and enjoyable.
Unlock the Full Potential of Your Business with Innovative Strategies to Connect with Customers
We specialize in providing custom mobile applications that are tailored to meet your unique business needs. Our experienced development team will design, create and implement solutions that are easy to use and help increase efficiency, productivity and effectiveness of your organization.
We offer custom-made mobile apps tailored to your specific needs. Our team of experienced software engineers and developers are here to help you create an app that will make it easier for your users to connect and interact with your brand or other brands quickly and effectively.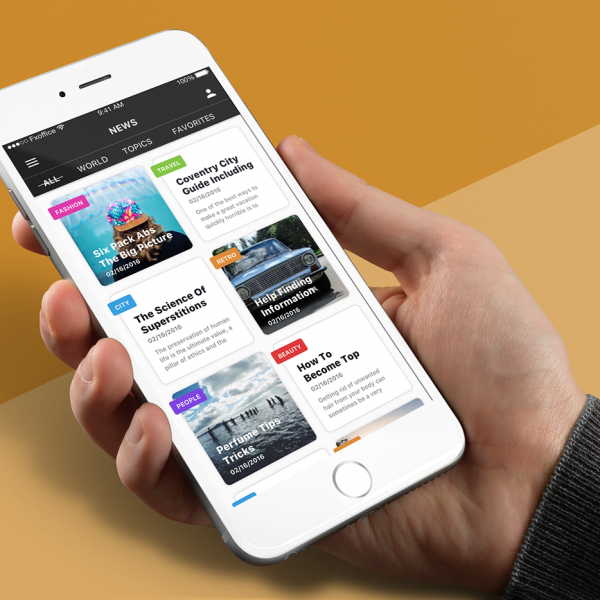 Unlock Profitable Growth Opportunities with Mobile Strategies Built Specifically For You!
Smartphone internet users are increasing by the day and Its in turn, affecting businesses.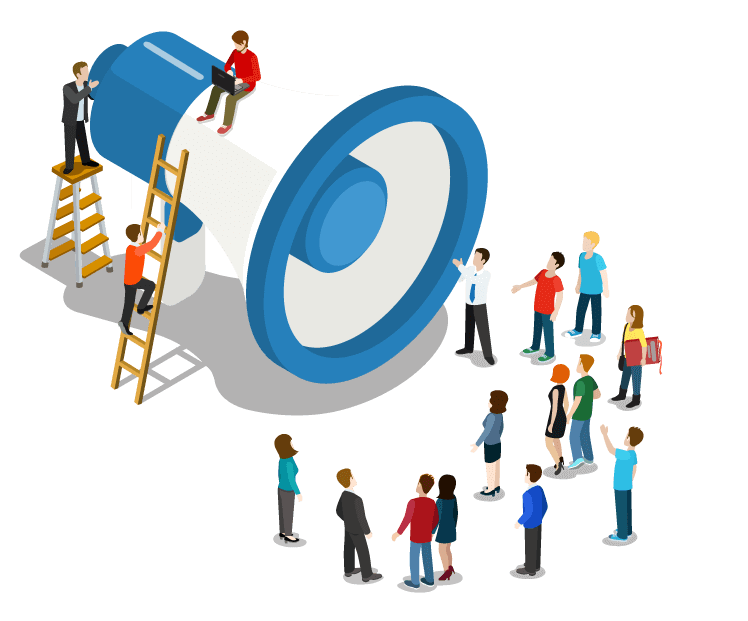 9 in 10 U.S adult population owns a cellphone, and 61% of them are smartphones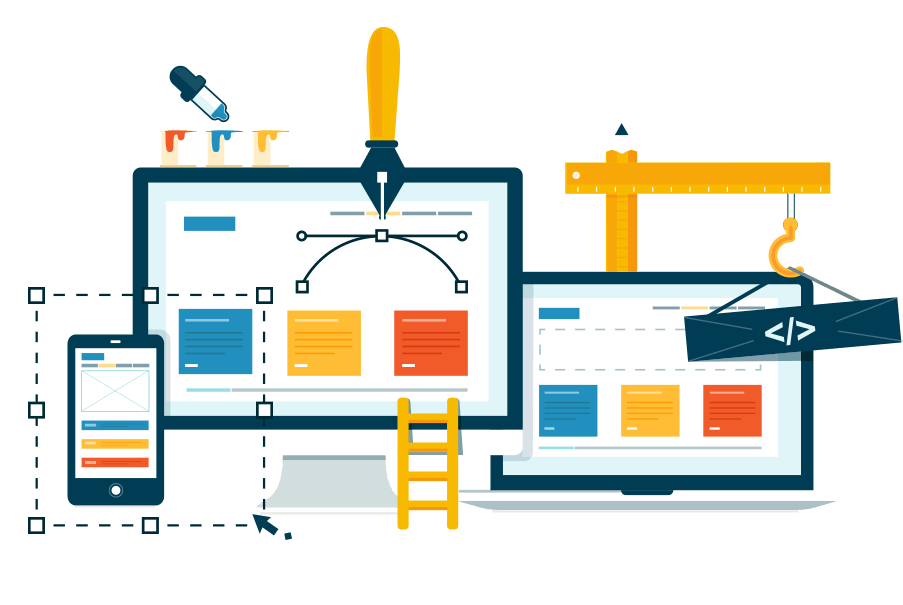 By 2019, 94% of small business websites will be made mobile friendly.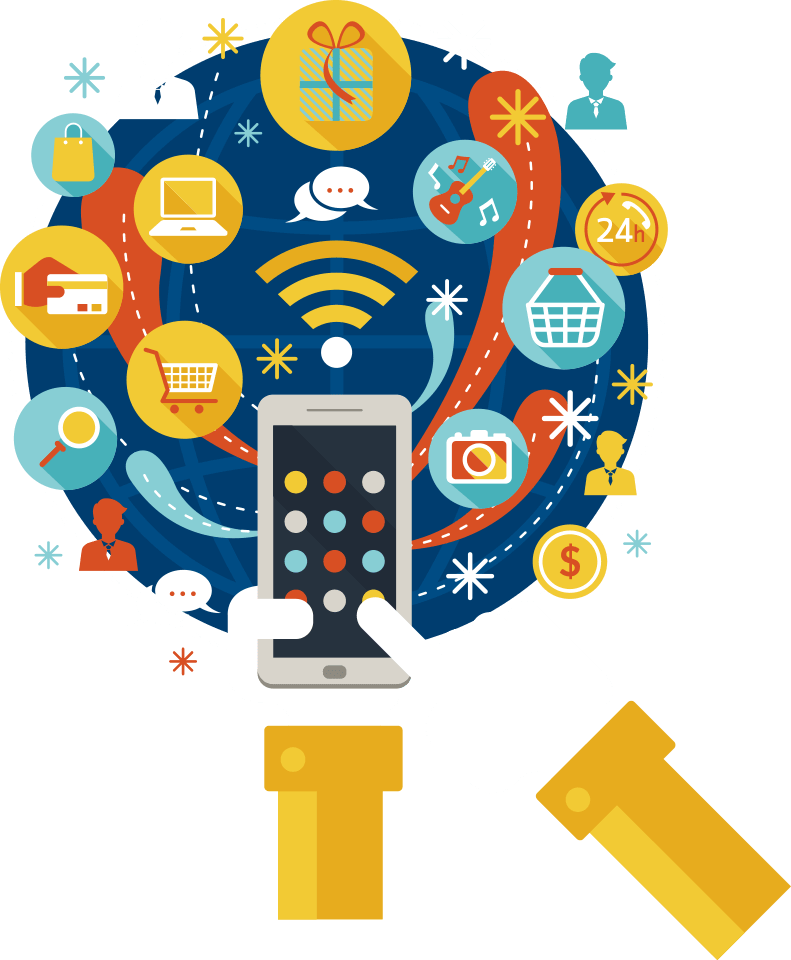 In 2018, 52.2% of worldwide online traffic was generated through mobile phones.
Mobile App marketing is important for all business.
Every business needs a mobile app to interact with clients and deliver great service. Our team at MobileApp Solutions specializes in developing custom mobile apps that enable businesses to increase customer engagement, gain insight into user behavior, and digitally transform their products and services.
Without the Right Skill Set, Building a Mobile App can be Daunting
We understand the importance of having a mobile presence, so we make sure that our apps are intuitive, user-friendly, and cost-effective. With Business Inc Online you get an experienced design team, customized solutions, and amazing customer support. We ensure that our clients get the best experience with superior quality and efficiency.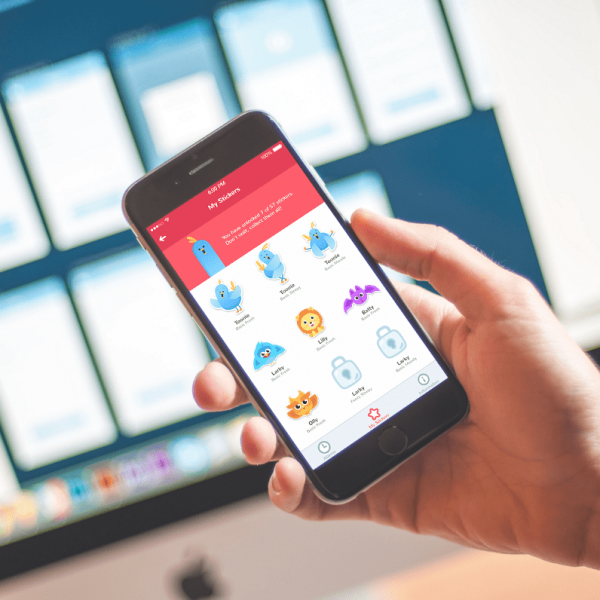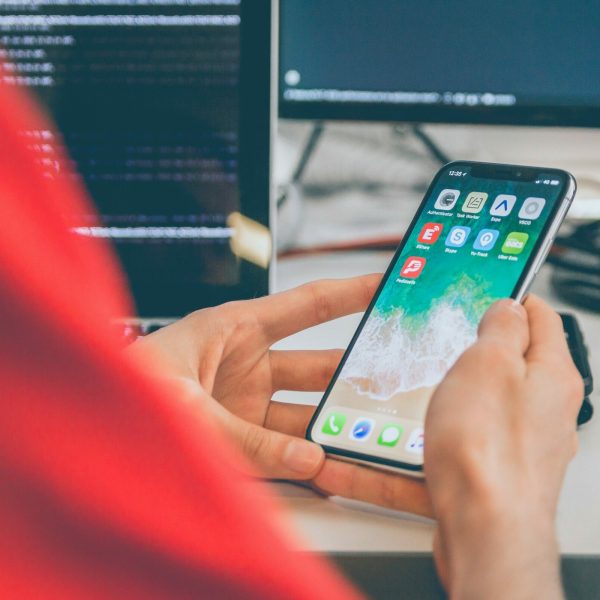 Hiring a Mobile App Developer is Expensive
We provide an efficient, cost-effective solution that reduces development time from months to days, allowing you to get the most out of your investment.
Our team has multiple years of experience in software development and marketing, so we are able to build apps with modern features quickly and correctly. 
Our Full-Stack Mobile App Development Services
Improve Customer Engagement and Boost Sales with a Mobile App from Business Inc Online
Unlock The Potential of Your Brand with Our App Development Team
Mobile Application Development Process
 Our team of experienced developers come from diverse backgrounds and specialize in all aspects of mobile app development. From concept creation to design and coding, we take the time to understand your business needs to deliver a successful app. We understand that every project requires a unique approach and strive to provide flexible solutions at competitive prices. 
SCOPE OF WORK AND TIMELINE
Customized Solution For Various Industries
We Take Your Web, App and Software Solutions to the Next Level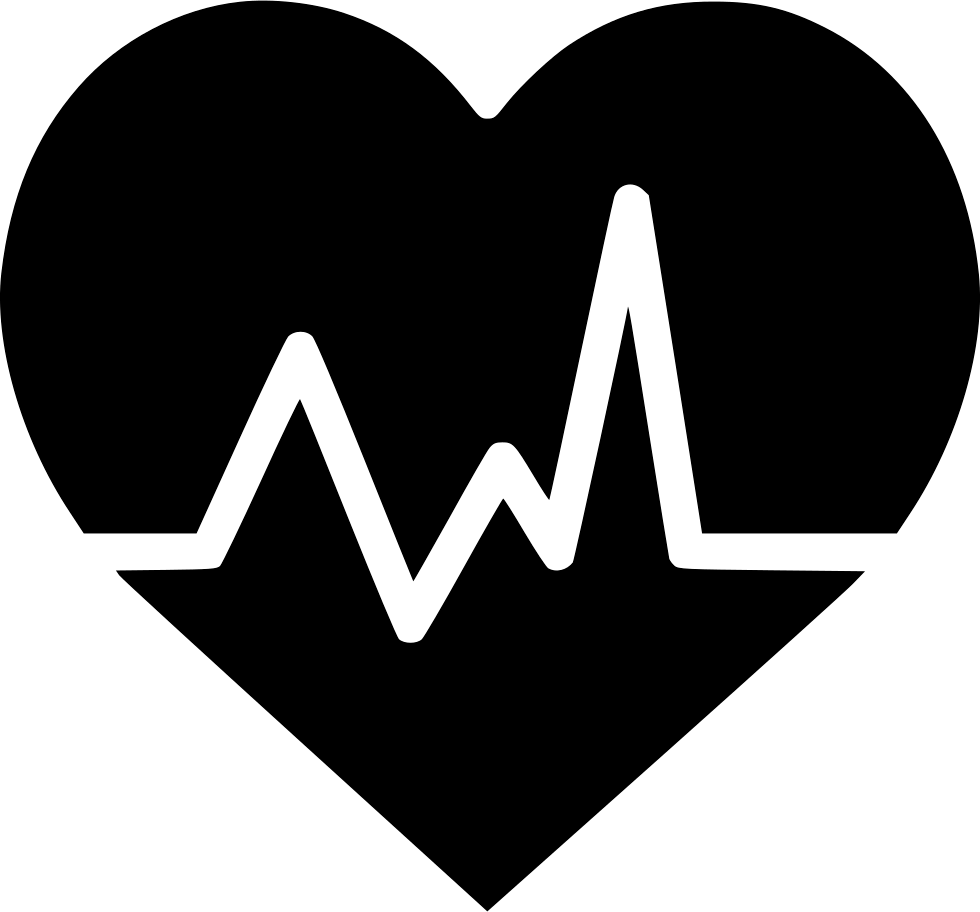 Pharmacy, Dental & Medical Supplies



Logistics & Transportation

Mobile App Increases Engagement with Customers As More People Use Mobile Phones
Mobile App Solutions is the perfect platform for small businesses to stay ahead of the competition and gain a competitive edge. Our team of experts specializes in creating custom, user-friendly mobile apps that help businesses reach their target audience with ease. We provide innovative features such as push notifications, advanced analytics, and personalization functions that can be tailored to your business needs and requirements.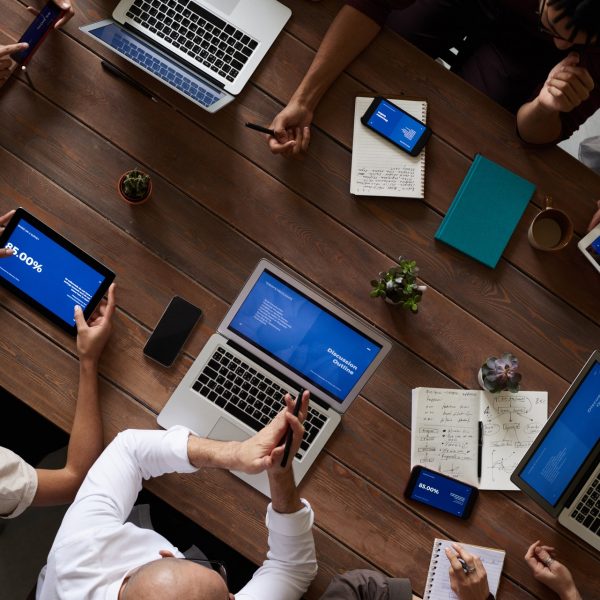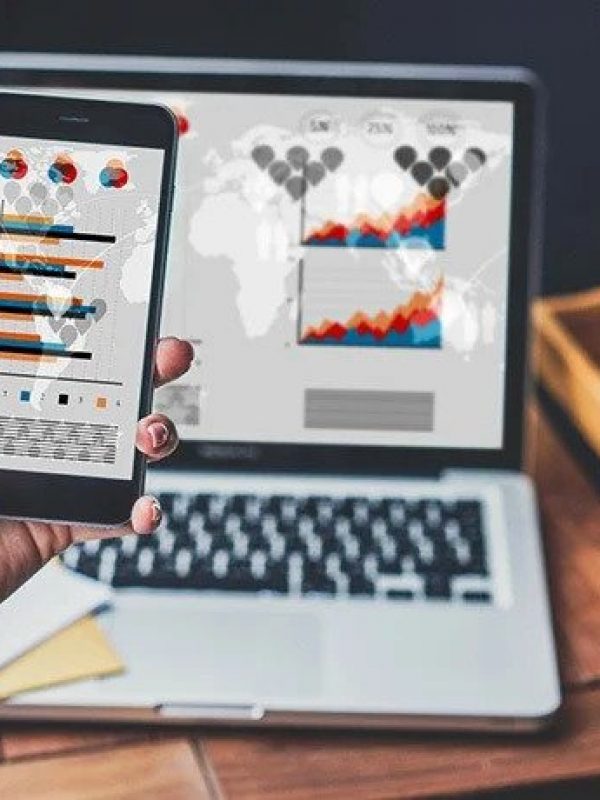 We are Experienced in Mobile App Development.
We are agile thinkers who specialize in the entire lifecycle of mobile app building. Our team provides outstanding planning, design, development and testing services to our customers. We have worked with many different clients across many industries, helping them to reach a broader audience through their mobile apps and grow their businesses. With our expertise and experience, we ensure the success of your project from concept to completion.
We Help Our Customers to Grow their Business
We specialize in intuitive and engaging mobile app development. Our design philosophy puts the user first, by taking into account their wants and needs when it comes to creating UI/UX designs. Our apps are designed to be as intuitive and engaging as possible while being scalable across different platforms. We ensure that our apps provide a seamless experience that is tailored to each individual user.
Our Experts are Ready to Help!
Connect with one of our Local Experts today and discuss your requirements. Free advice.

Want to connect with a marketing expert? Dial in!

Exceptional Mobile App Development Service To Help You Stand Out
In today's fast-paced world, mobile apps have become a necessity for businesses looking to engage with their customers on-the-go. A well-designed and user-friendly mobile app can not only boost your brand's visibility but also help you stay ahead of the competition. However, developing a high-quality mobile app requires specialized skills and expertise that most businesses lack. This is where a reliable mobile app development service comes into play.
To create an exceptional customer experience by providing our clients with the highest quality mobile app development services. With a team of experienced developers, designers, and project managers, we are able to develop custom-tailored mobile apps that are both functional and visually appealing. Our mobile apps feature the latest technologies, tools, and UI/UX designs that are optimized for all devices. We pride ourselves in delivering fast, reliable results with unmatched customer service.
Whether you're a small business looking to launch your first mobile app or a large corporation in need of a sophisticated mobile application, our dedicated team is here to help.
What is Mobile App Development?
Mobile app development has become a crucial aspect of the modern digital landscape. With the immense growth of the smartphone market and the increasing number of users who access the internet through their mobile devices, businesses are recognizing the need to have a presence on the mobile platform. However, the process of mobile app development involves more than just creating an app for a specific platform. It encompasses a range of activities, including strategizing, designing, developing, testing, and deploying the app.
The world of mobile app development and examine its various elements. We will delve into the different types of mobile apps, the key considerations in mobile app development, the steps involved in creating a mobile app, and the tools and technologies used in the process. Whether you are a business owner looking to create an app for your company or a developer interested in learning about mobile app development, this post will provide you with valuable insights and information.
Sea eligendi comprehensam in, lucilius ocurreret vim ne, ne quo justo explicari. Cum ad summo definitionem, liber diceret petentium id his, sit diam case molestiae ea.
Marie Young
Sea eligendi comprehensam in, lucilius ocurreret vim ne, ne quo justo explicari. Cum ad summo definitionem, liber diceret petentium id his, sit diam case molestiae ea.
Jack Young
Sea eligendi comprehensam in, lucilius ocurreret vim ne, ne quo justo explicari. Cum ad summo definitionem, liber diceret petentium id his, sit diam case molestiae ea.
Hanna Young
Mobile App Dev: Global Invasion Strategy
In today's fast-paced world, mobile applications have become an integral part of our lives. From shopping and banking to entertainment and social networking, mobile apps are transforming the way we interact with the world. With over 3.8 billion smartphone users worldwide, the mobile app market is growing at an unprecedented rate. As a result, businesses across the globe are investing in mobile app development to reach a wider audience, increase their customer base, and boost their revenue. However, with fierce competition and a saturated market, it's essential to have a solid global invasion strategy to stand out from the crowd. This blog post will guide you through the essential steps required to develop a successful mobile app that can take the world by storm. We'll explore the importance of understanding your target audience, conducting thorough market research, partnering with local businesses, and implementing localization strategies to overcome language and cultural barriers.
Ways To Approach Mobile App Development
Mobile app development has become the focus of businesses of all sizes due to the increasing demand for smartphone use. With over 3.8 billion smartphone users worldwide, it is no surprise that many companies are looking to develop their own mobile apps to cater to their clients' needs. However, building a mobile app requires a lot of work, time, and effort. It can be challenging to know where to start, and that's why we've put together this post to provide you with some guidance.
Taking a closer look at various ways to approach mobile app development. We'll discuss some of the key factors to consider when developing a mobile app, such as choosing the right platform, deciding on the features, and ensuring the app's usability. You'll learn about the various types of mobile apps and which one will work best for your business.
Ready to Grow? Get your FREE Quote Today!
Comparing Mobile App Development Approaches
In today's digital age, mobile applications have become an essential part of modern businesses. From enhancing customer engagement to streamlining internal processes, mobile apps offer a plethora of benefits to organizations of all scales. However, with a multitude of mobile app development approaches available, it can be challenging for businesses to choose the right method for their specific requirements. From native apps to hybrid and web apps, each approach has its own set of advantages and disadvantages. Choosing the wrong approach can result in a subpar app that fails to meet user expectations, ultimately leading to decreased engagement and revenue loss. Therefore, it is crucial for businesses to understand the pros and cons of each approach before making the final decision. In this blog post, we will delve into the various mobile app development approaches, including native, hybrid, and web apps, and compare their features, benefits, and limitations. By the end of this post, you will have a clear understanding of which approach is best suited for your business needs.
Native applications are those that are developed for specific platforms or operating systems, such as iOS or Android. They are built using programming languages and tools that are optimized for the specific platform, resulting in faster and more efficient performance. Native applications also have the ability to access device features such as cameras, GPS, and sensors, which allows for more advanced functionality. They can be downloaded from app stores and are installed on the device, which provides a seamless user experience. Additionally, native applications can be designed with a consistent look and feel, in line with the overall design language of the platform, enhancing the user experience even further.
Cross-Platform Applications
Cross-platform applications are software programs that can run on multiple operating systems or platforms. These applications have become increasingly popular due to their ability to offer a consistent user experience across different devices and platforms, including desktop, mobile, and web. By creating cross-platform applications, developers can reach a wider audience and reduce development costs and time-to-market, as they do not need to create separate versions of the same application for each platform. Furthermore, cross-platform applications can help organizations increase productivity and efficiency by allowing users to access the same data and features across different devices, regardless of the operating system or platform they are using. Overall, cross-platform applications offer numerous benefits for both developers and end-users and are becoming an essential part of the modern software landscape.
Hybrid applications are a popular choice among businesses and developers alike due to their ability to provide a seamless user experience across multiple platforms. These applications are essentially a combination of both native and web applications, utilizing the strengths of both to create versatile and efficient software. Hybrid applications can be developed quickly and cost-effectively while still providing access to device features such as the camera and GPS. Additionally, they can be updated in real-time, making it easy for developers to make changes and ensure that users are always working with the most up-to-date version. Overall, hybrid applications are a smart choice for businesses looking to expand their digital presence without breaking the bank.
Platforms for Developing Mobile Applications
In today's digital age, mobile devices have become an integral part of our daily lives. With the increasing demand for mobile applications, businesses are rapidly shifting towards mobile app development to better engage with their customers. However, developing a mobile app is not an easy task. To create an excellent mobile app, you need a robust platform that offers reliable solutions for building, testing, and deploying your app.
There are numerous platforms available for developing mobile applications, each with its strengths and weaknesses. Choosing the right platform for your mobile app development can be a daunting task, especially if you are new to the industry. In this blog post, we will discuss the top platforms for developing mobile applications that will help you create high-quality apps that meet your customers' needs.
We will explore the most popular platforms for mobile app development, including native development, hybrid development, and cross-platform development. Each platform has unique features and benefits that cater to different business needs.
Discover how we can help your business.
The support was great and the team was always there when we needed them. We'll definitely be back for future projects as we continue to expand. Sincerely, from the heart, thank you for putting yourself in the work. We are so pleased with the results and we really appreciate the love you put in. I highly recommend you to anyone.
Just a short note to express how satisfied I am with my digital marketing campaign. I am extremely pleased with it. You've all exceeded my expectations and I'm excited to proceed to start running google ads now. We appreciate our partnership and have been really satisfied with the results of the work your team did. What a night and day difference from our last web agency. I'll be using you on all of my future projects.
Awesome work, our site's chatbot now looks almost human and very intuitive. Changed the order a couple of times, but it was fulfilled and adapted to what I needed each time. Project delivery including the reviews were all in a timely manner- this is such a great experience. Will always recommend for AI chatbot design.
What Does the Process of Mobile App Development Look Like?
Mobile apps have become an indispensable part of our daily lives. From shopping to paying bills, and from socializing to entertainment, we all rely on mobile apps for their convenience and ease of use. However, behind every successful mobile app, there is a complex and intricate process of development. Mobile app development requires careful planning, skilled programming, and diligent testing to ensure a seamless user experience.
Take an in-depth look at the process of mobile app development. Whether you're a business owner looking to create a mobile app for your brand or a developer interested in the intricacies of mobile app development, this post will provide you with valuable insights. We will explore the various stages of the development process, including ideation, design, development, testing, and deployment. We'll also delve into the tools and technologies used by developers to create mobile apps and discuss the challenges that developers face when creating mobile apps.
Take Your Business Global with Custom Android App Development
In today's globalized world, businesses need to operate on a global level to remain competitive. Companies are constantly seeking new and innovative ways to reach new markets and expand their consumer base. One of the most effective ways of achieving this is through custom Android app development. Custom Android apps are powerful tools that can help businesses to streamline their operations, improve customer engagement, and increase their reach on a global scale.
Android is one of the most popular mobile operating systems, with over 2.5 billion active devices worldwide. This popularity makes it an ideal platform for businesses to develop custom apps that can be used by customers across the globe. With custom Android app development, businesses can create apps that are tailored to their specific needs and requirements. These apps can include features such as e-commerce functionality, social media integration, and location-based services that can help businesses to expand their reach and improve customer engagement.
Ready to speak with our experts?
Looking for Funding?
$3,000,000,000+
IN FUNDING SECURED FOR CLIENTS
Get Clients through our
155,000,000+
CLIENT ACQUISITION DATABASE
Accelerate your ROI by
200-1000%
FROM OUR DIGITAL CHAT BOT SERVICE
Increase Brand Awareness with
2,200,000+
SOCIAL MEDIA & JOURNALIST ACCOUNTS
Tools Used for Our Android OS App Development
In the ever-evolving world of mobile technology, Android operating system (OS) has emerged as a popular choice among users and developers alike. Due to its open-source nature and flexibility, it provides a vast array of tools and resources for developers to create innovative and engaging apps. However, with so many options out there, it can be daunting to figure out which tools are best suited for your Android app development needs. In this blog post, we will explore some of the key tools used by our development team at XYZ Inc. to create high-quality Android OS apps.
From integrated development environments (IDEs) to backend services and testing tools, we will delve into each of the tools that we rely on to build top-notch Android OS apps. We will also provide insights into the pros and cons of each tool and how they fit into our development workflow, to help you understand which ones may be most suitable for your own app development project.
Defining the Minimum Viable Product (MVP) is a crucial aspect of any successful product development strategy. The MVP is the most basic version of a product that can be launched to the market while still providing value to the customer. It is a product that has all the essential features required to satisfy the customer's needs, but not so many features that it becomes bloated or complicated. The MVP is developed with the goal of gathering feedback from early adopters to help improve the product in future iterations. Defining the MVP requires a thorough understanding of the customer's needs and the market landscape. It is important to prioritize features, so the product can be launched quickly and efficiently.
Android Studio is a highly advanced integrated development environment (IDE) that is specifically designed to develop applications for Android devices. It is widely used by developers and programmers worldwide due to its rich features and comprehensive toolset. With Android Studio, developers can create, test, and deploy applications for Android platforms with ease. The IDE comes equipped with several features such as code completion, debugging, refactoring, and more, which significantly simplifies the app development process. Additionally, Android Studio offers excellent support for Kotlin, a popular programming language for Android app development. Overall, Android Studio is a powerful and reliable tool that enables developers to create high-quality apps for Android devices.
Gradle is a powerful build automation tool for the Java ecosystem that provides a flexible and efficient way to manage dependencies, compile and test code, and package applications. It uses a declarative configuration language and a plugin system to simplify complex tasks and support a wide range of build scenarios. Gradle integrates seamlessly with popular development environments, such as Eclipse and IntelliJ, and supports a variety of programming languages, including Java, Groovy, Kotlin, and Scala. With its rich ecosystem of plugins and extensions, Gradle can be customized to fit any project's specific needs, whether it's a small library or a large-scale enterprise application. Overall, Gradle is a versatile and reliable tool that can help developers streamline their build process and improve their productivity.
Jetpack Compose is a modern toolkit for building native Android UIs. It is designed to simplify and accelerate the development process, allowing developers to build high-quality, responsive UIs with less code. Jetpack Compose uses a declarative approach, which means that developers can describe the UI components and their interactions in a clear and concise manner. This toolkit offers a rich set of components and widgets that make it easy to create complex user interfaces, animations, and transitions. Additionally, Jetpack Compose is fully integrated with the Android Studio IDE, providing a seamless development experience. Overall, Jetpack Compose is a powerful tool that enables developers to create beautiful and engaging Android apps in a more efficient and streamlined manner.
Kotlin is a statically-typed programming language developed by JetBrains, which has gained immense popularity in the Android development community due to its simplicity and concise code structure. It is designed to be interoperable with Java, making it a seamless addition to existing Java projects. Kotlin offers several advanced features such as null safety, extension functions, coroutines, and higher-order functions, which make coding more efficient and less error-prone. Kotlin is also known for its seamless integration with Android Studio, which makes it easy for developers to switch to Kotlin from Java. With its growing popularity in the Android development community, Kotlin is becoming a go-to language for building robust and scalable Android applications.
AndroidX is a development support library that offers new features and tools for Android app developers. It is designed to simplify app development by providing a consistent set of libraries that are backward-compatible with older versions of Android. AndroidX replaces the original support library and includes updated versions of existing libraries, as well as new libraries. The library is modular and allows developers to pick and choose the specific components they need, reducing the size of their app. AndroidX also includes new features such as improved data binding, lifecycle management, and navigation. Overall, AndroidX is an essential tool for developers who want to create high-quality and efficient Android apps.
Google Firebase is a comprehensive mobile and web application development platform that provides a range of tools and services to developers. It offers real-time database, cloud messaging, authentication, hosting, and analytics services that help developers build high-quality applications with ease. Firebase has been designed to reduce the complexity of app development and allow developers to focus on building excellent user experiences. Additionally, it offers a robust set of development tools that enable developers to quickly iterate and test their apps, making it an excellent choice for startups and small businesses. With its scalable and reliable infrastructure, Firebase is a trustworthy platform that ensures high performance and reliability.
Google Play Store is a digital distribution platform developed and maintained by Google. It offers a vast collection of apps, games, movies, books, and music for Android devices. With over three million apps and games available, Google Play Store is the largest app store in the world. It provides various features such as personalized recommendations, app ratings, and reviews to help users discover and download the best apps. Moreover, it offers a secure and convenient payment system for purchasing premium apps and in-app purchases. Google Play Store has become an essential platform for developers to distribute their apps and reach a massive audience worldwide.
Ready to speak with our experts?
Get iOS Applications Your Users Will Fall in Love With at First Sight
As mobile technology continues to advance, it's essential to stay up-to-date with the latest development trends to create iOS applications that stand out from competitors. Your application's design can make or break its success, as users will quickly judge your app's usability and functionality based on their first impressions. In today's world, it's not enough to have a functional app. Users expect a visually appealing and easy-to-use interface that provides a seamless experience.
Creating an iOS application that users will fall in love with at first sight can seem like an impossible task, but with the right strategies, it's entirely achievable. From user research to prototyping, designing, and testing, there are several steps you can take to ensure your application exceeds user expectations. This blog post will explore the best ways to create iOS applications that users will fall in love with at first sight. We'll cover the essential design elements that can make or break an app, including color schemes, typography, user interface, and more.
SUBSCRIBE
& get a chance to
Join our customer database and you will be entered in our quarterly bonus giveaways!
Tools Used for Our iOS App Development
In the world of mobile app development, iOS remains a dominant platform, commanding a significant market share. Apple consistently sets the bar higher for app development by continually updating its operating system and hardware. To keep up with the dynamic changes in the iOS ecosystem, developers must use the right tools to create apps that meet the expectations of Apple's users. In this blog post, we will discuss the tools used for our iOS app development, which enable us to create high-quality apps that meet the ever-evolving standards set by Apple.
Our development team uses a variety of tools and technologies that help us create robust and scalable iOS apps. We rely on Xcode, Apple's integrated development environment, to develop, test, and debug our apps. Additionally, we use Swift, Apple's powerful programming language, to write our code efficiently. We also use third-party libraries and frameworks that make it easier for us to add features and functionality to our apps, such as Alamofire, Realm, and Firebase.
Some Mobile App Deployment Best Practices
In today's digital age, mobile applications have become an essential part of our daily lives. Whether it's for entertainment or productivity, there's an app for almost everything. With the increasing demand for mobile apps, businesses are considering mobile app deployment to improve customer engagement and reach a broader audience. However, deploying a mobile app is not a straightforward process, and it requires careful planning and execution to ensure a smooth and successful launch. In this blog post, we'll discuss some mobile app deployment best practices that can help businesses avoid common pitfalls and ensure a successful app launch. From testing and optimization to user engagement and security measures, we'll cover every aspect of mobile app deployment that businesses should consider. By following these best practices, businesses can minimize the risks involved in mobile app deployment, improve their user experience, and achieve their business goals.
Monitor the Mobile App Performance
Monitoring the performance of your mobile app is crucial for maintaining the satisfaction of your users. With an ever-growing number of mobile app users, it is important to ensure that your app is functioning properly and is meeting the expectations of your audience. App performance monitoring involves analyzing key metrics such as response time, load time, and user experience. By monitoring these metrics, you can identify any issues and resolve them quickly, thus improving the overall performance of your app. With the right monitoring tools, you can gain valuable insights into user behavior and preferences, allowing you to optimize your app to better meet their needs. In short, monitoring your mobile app performance is essential for ensuring its success and maintaining a positive user experience.
Update UI refers to the process of enhancing the user interface of a software application to improve its functionality, usability, and aesthetics. It involves incorporating modern design principles and techniques to make the interface more visually appealing and intuitive. An updated UI can lead to improved user experience, increased user engagement, and higher customer satisfaction. It is essential to keep updating the UI of software applications to keep up with changing user expectations and technological advancements. A well-designed UI not only enhances usability but also reflects the professionalism and quality of the software product. Therefore, it is crucial for developers to prioritize updating the UI in their software applications.
A development plan is a strategic tool that outlines an individual's or an organization's goals, objectives and strategies for growth and success. It is a roadmap that identifies areas that require improvement, provides a clear direction for future growth and helps to create a focused, efficient and effective approach to achieving goals. A development plan should be created with a professional tone, outlining specific steps and measurable milestones that will enable the individual or organization to track progress towards their goals. It is important to regularly review and adjust the plan to ensure that it remains relevant and aligned with the changing needs of the individual or organization. A well-developed plan can help individuals and organizations to achieve their full potential and accomplish their desired outcomes.
we are committed to providing mobile app developers with comprehensive bug-fixing solutions to ensure their users experience the best possible outcomes. We specialize in finding and resolving bugs quickly and efficiently, making sure that any issues are fixed before they have a chance to cause problems for the user. Our team of experienced engineers has years of experience debugging code and tracking down bugs, ensuring that our clients' applications will run smoothly and without issue.
Get Feedbacks and Update App Regularly
It is imperative for app developers to receive feedback from their users and use it to improve their apps. Regular updates are also essential to keep the app functioning optimally and to ensure that users have access to the latest features and improvements. By consistently addressing user feedback, developers can create a product that meets the needs and expectations of their target audience. Additionally, regular updates help to maintain user engagement and satisfaction, ultimately leading to increased downloads, positive ratings, and more revenue. Therefore, it is crucial for app development teams to prioritize feedback and updates to create a successful and sustainable mobile application.
We'll Develop Amazing Products that 10x Your Business and Give Your users the Best Experience
As an entrepreneur or business owner, your primary goal is to provide exceptional services to your customers and enhance their overall experience with your brand. However, with an ever-increasing market saturation, it's becoming increasingly difficult to stand out from the crowd and deliver unique value to your customers. This is where the right tools come in to play. In today's world, technology has made it possible to revolutionize every aspect of business, from marketing to customer service. By adopting the right tools and products, you can 10x the growth of your business and provide your users with the best experience possible.
In this blog post, we will be discussing some of the most amazing products that have the potential to transform the way you do business. These products have been tried and tested by industry experts and have proven to be extremely effective in boosting business growth and user satisfaction. We will also provide insights into how these products work and how they can be integrated seamlessly into your operations. From artificial intelligence-powered chatbots
Testing and quality assurance (QA) are crucial components of software development. Testing verifies that the software meets the requirements and functions as expected, while QA ensures that the software is of high quality and meets industry standards. This involves identifying and addressing any defects or issues that arise during development, as well as conducting thorough testing to ensure that the software is reliable, secure, and user-friendly. Effective testing and QA can save companies time and money by catching errors early in the development cycle and reducing the likelihood of costly recalls or customer dissatisfaction. Therefore, it is essential for software development teams to prioritize testing and QA throughout the development process to deliver robust and reliable products.
Unique Product Development Strategy
Unique product development strategy is an essential aspect of any organization's success. It involves creating innovative and out-of-the-box ideas for products that meet the needs of the target audience. A unique product development strategy includes identifying customer needs, analyzing market trends, and developing a product that stands out from the competition. It also involves aligning the product development process with the company's vision and mission. Companies can adopt several approaches to develop unique products, such as design thinking, open innovation, and customer co-creation. The key to a successful unique product development strategy is to create a product that provides superior value to the customer and sets the company apart from its competitors.
User Interface and Experience Design
User interface and experience design are crucial components of any successful software or application. UI design is the visual and interactive aspect of a digital product, while UX design encompasses the overall experience that users have while interacting with it. A good UI and UX design should be intuitive, user-friendly, and engaging to ensure that users can easily navigate through the product and accomplish their tasks efficiently. A successful UI and UX design can have a significant impact on the overall success of a product, as it can enhance user satisfaction, reduce the learning curve, and increase the likelihood of repeat usage. Therefore, investing in a thoughtful and well-executed UI and UX design is essential for any digital product to stand out and succeed in today's highly competitive market.
Indigenous Mobile App Development
Indigenous mobile app development is the process of creating mobile applications that are specifically designed to meet the needs and requirements of indigenous communities. These apps are developed using indigenous languages, cultural practices and values, and they aim to promote the preservation and appreciation of indigenous cultures. The development of these apps is a critical step towards empowering indigenous communities by providing them with access to technology that is tailored to their unique needs. The process of indigenous app development requires a deep understanding of the cultural and linguistic nuances of the communities being served. Through the development of these apps, indigenous people can maintain and celebrate their cultural heritage while also keeping up with the rapidly advancing world of technology.
In conclusion, mobile app development services are essential for businesses in today's digital age. With the increasing use of smartphones and tablets, businesses need to have a strong mobile presence to stay competitive. A professional and experienced mobile app development team can create customized apps that meet the specific needs of a business and provide a seamless user experience. Investing in mobile app development services can lead to increased brand visibility, customer engagement, and revenue generation. As the mobile app market continues to grow, it's crucial for businesses to stay ahead of the curve and leverage the power of mobile technology.